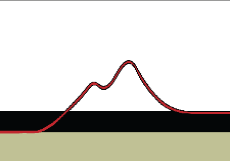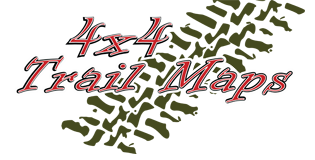 Rubicon Trail

Nearby Towns:
Icehouse, Georgetown, Lake Tahoe (Tahoma)

Nearby Trails:
Barrett Lake, Fordyce Creek, Hell Hole

Nearby Shops:
Trent Fabrication 4x4, Al's Four Wheel Drive Center

Difficulty Rating:
Total Trail Length:
Elevation Change:
Operating Season:
Known Obstacles:

Trail Photographs
(click to view full size)

The Rubicon Trail is with out a doubt the most famous jeep trail in North
America. Four wheel drive manufactures often test out the abilities of their
vehicles here while off road enthusiast come from all over the world to test their
nerve. Although the Rubicon will consistently punish your vehicle from start to
finish you are continually rewarded with its scenic beauty.

The first obstacle you will encounter on the trail is known as the Gatekeeper. If
you have unexpected trouble conquering this obstacle do everyone in your group
the favor of turning back now, it only gets worse.

Although the Rubicon Trail can be navigated in one full day, two or three days is
recommended.

The Rubicon Trail is best traveled from mid-summer to mid-fall. This is to avoid
the winter snow pack and wet spring weather, not to mention the cold nights.
The trail
consist of mostly lite dry soil and granite, although portions of the trial may be
flooded or snow covered depending on the time of year and current conditions.

The trail allows for access to the Rubicon River, Spider Lake, Loon Lake and
other water features. Remember to abide by the Tread Lightly Philosophy, all
rules of the
Rubicon Trail and surrounding wilderness areas.

Given the nature of the trail please remember plan safety. Groups of three or
more vehicles is preferred as well as the given suggested equipment.

While some extremely difficult sections can be bypassed several technical
sections cannot. Use caution, good judgement and a spotter when necessary.



Trail Head
- As you approach the dam toward the west side of Loon Lake the
paved road ends. Continue across the dam and down to the left, this is the
staging area. There are no bathroom facilities at the staging area, although
there are facilities within the campground areas and boat ramp. Permits are
required for multiple days while day use remains free.


Gatekeeper -
The first major obstacle that you will face is properly named
Gatekeeper. This obstacle consists of a left turn through a squeeze of two large
rocks. If you have a notable amount of trouble here this would be your sign to
turn back now, it only gets worse!


Granite Bowl -
While overlooking the Granite Bowl bear left to descend into the
bowl. Use caution and follow existing tire tracks when ever possible. Look to
the south for great views of Loon Lake.


Little Sluice Box -
This is an area of extreme rock crawling and damage is
almost unavoidable for even the most modified trial rig. The bypass is strongly
recommended.


True Big Sluice -
This is another area of great rock crawling as you begin your
decent toward Buck Island Lake. Follow trail markers and watch out for steep
ledges.


Buck Island Lake -
Buck Island Lake is a very popular campsite, don't forget to
get your fire permit. The trail follows the north shore where you will be
confronted with several large ledges after crossing the dam.


Big Sluice -
Beginning at a sharp left switchback Big Sluice does not offer a
bypass. This sections large rocks will test you and your vehicles capabilities.
Following Big Sluice is a water crossing that can get very deep, use caution
here and check the depth.


Rubicon Bridge -
The Rubicon Bridge crosses the Rubicon River and is a great
photo opportunity.


Rubicon Springs -
Rubicon Springs is another great place to camp along the
Rubicon River. This is the camping site for the Jeep Jamboree events.


Cadillac Hill -
Cadillac Hill is the last difficult obstacle of the trail. This is a very
steep and narrow climb. As always use caution.

Trail Maps





39° 00' 15" N 120° 18' 45" W

39° 00' 20" N 120° 18' 28" W

39° 00' 35" N 120° 18' 30" W

39° 01' 14" N 120° 16' 30" W

39° 00' 36" N 120° 15' 55" W

39° 00' 19" N 120° 15' 18" W

39° 00' 14" N 120° 14' 39" W

39° 00' 45" N 120° 14' 41" W

39° 01' 03" N 120° 14' 47" W

39° 01' 50" N 120° 15' 09" W

Trail Head

Gate Keeper

Granite Bowl

Little Sluce Box

True Big Sluice

Buck Island Lake

Big Sluice

Rubicon Bridge

Rubicon Springs

Cadillac Hill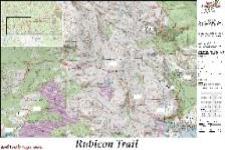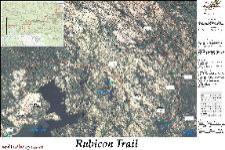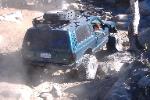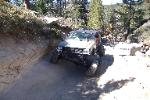 Directions

From Interstate 50 (Sacramento - 94 Miles)
- Head East on Highway 50 to Ice House Road (63 Miles)
- Bear right onto 13N-18 / Ice House Road (23.4 Miles)
- The Loon Lake stage area is just beyond the second dam (7.6 Miles)

All other products, logos, brand names or companies are trademarks or registered
trademarks of their respective companies.


4x4TrailMaps All Rights Reserved

Extreme
Aprox. 22 miles
5,400' to over 7,100'
Closed for Winter
Gatekeeper, Granite Bowl, Little Sluice,
Big Sluice, and Cadillac Hill